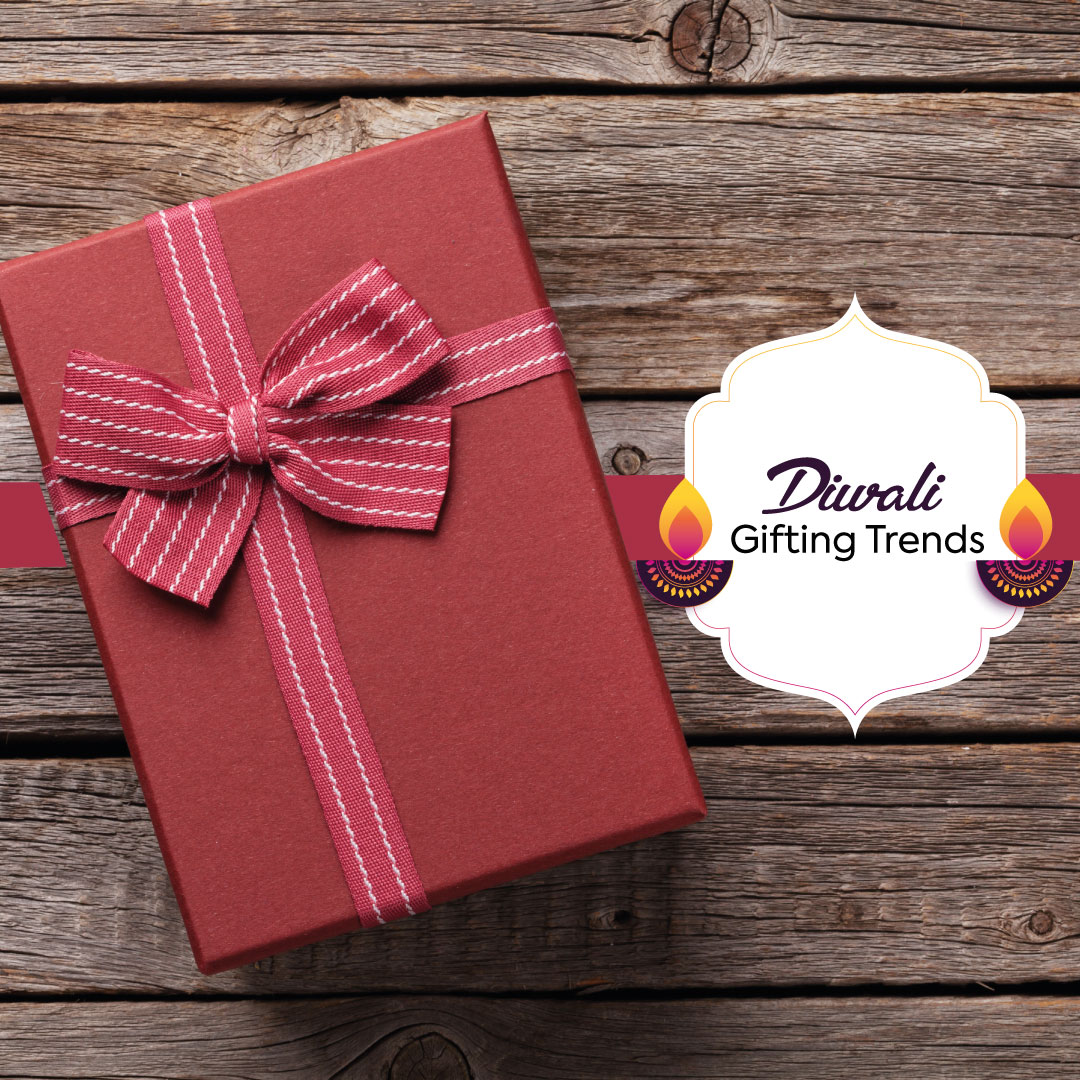 21 Oct

8 Innovative Gifting Trends for Diwali 2020

This year, sentiment around the festival of Diwali might seem bleak, but general surveys say otherwise. This could be attributed to the fact that despite the economic difficulties that people have had to face, most are optimistic that the festival of lights will bring with it a positive streak of changes.

According to TRA Research, 65% consumers pointed towards a positive buying sentiment for Diwali 2020. It noted that besides apparel, furniture, jewellery, and television are some of the high-priority items that shoppers are looking for. Interestingly, similar trends are seen in India's gifting market, too, as a ReportLinker survey suggests. The country's gifting market is projected to improve from an estimated $119 million in 2019 to $159 million by 2025. Along with the personal gifting market corporate gifting too, is expected to see a significant uptick during the coming months.

With social distancing in place and a strong work-from-home environment having been built, giving gifts to your loved ones, clients and employees has become the most effective way to express appreciation and thank them for the support.

With this in mind, it becomes very important to understand the gifting trends that are top-of-mind today. With the situation globally, the way that it is, hampers and gift-packs have become one of the most trending items today. Instead of sending just a single item as a gift, people prefer to share a range of choices for the individual.

Here are some gifting kits and options you could be looking at for this festive season.
Fun & Festivities Gift Hamper
It's a time to celebrate with family and friends, and while people cannot indulge in big parties, connecting virtually is a must. Unwrapping gifts as you video call the gift giver is definitely fun. Popular gift hampers to incite family bonding time indoor games like jenga, jigsaw puzzles. Monopoly and ludo also make for great multiple player games that will please kids and adults alike.
If you wish to go the traditional way, a box of different scented candles, decorative lamps and lights that can include personalized glow-lights also makes for a warm gift. Today one can find aromatic candles in all flavours and wax melts in different shapes and colours. These can be an elegant and chic addition to any home decor.
And who can forget the all-time favourite of any gift hamper – chocolates and sweets. One thing that the children look forward to during any festival are the sweets that come with it. Premium quality chocolates, cookies, coffee and chocolate drink mixes, personalized and wrapped in a chic package can definitely be a thoughtful and delicious gift.
Eco Products
A rapidly rising trend among businesses, green gifting is definitely going to be big during the 2020 gifting season. As emphasis on sustainable resources grows, companies are shifting to eco-products in an attempt to show their commitment to this cause.
 Eco-products can range from stationery, bags and lap-top sleeves to apparel. Now with large-scale innovation, chic items like bamboo speakers and cutlery are also available. Creating an eco-friendly gifting hamper can be a great way to say how much you care about the individual, as well as the environment.
Wellness Hamper
A box of healthy goodies like immunity boosting foods, roasted and high-protein snacks and drink mixes, some dried fruits and nutrition-rich nuts are an interesting way to go. One can also opt for local sweet shops that are offering high-end, low-sugar, spiced and immunity building foods. Korean style fermented foods like kimchi and sauerkraut are also options you can consider.
Another option can be to have a whole safety kit that will include hand-wash, sanitizer, a set of masks and gloves, an anti-Covid key, and a face shield. This can give a strong message that you as an individual or an organization care immensely about the safety and well-being of the recipient.
One thing that this pandemic has brought into focus is the importance of health. A gift that focuses on the well-being of the recipient will give a message that you are supporting them and that you care.
Digital Gifts
With limited travel and an increasingly work-from-home culture, digital gifts are in vogue. Digital gift cards are very much welcome. As a Qwikcilver Solutions survey in 2019 noted that 93% of Indians prefer sending/receiving e-gift cards as compared to physical cards. Subscriptions to streaming apps like Netflix and gaming apps is definitely a trend.
Also popular are subscriptions to online learn-a-skill classes, whether it is a musical instrument, photography or cooking. Gifting pre-paid vouchers to fitness sessions like yoga, zumba and pilates or online stores is also a popular gifting trend. Having a few of these in your gift pack can definitely send a message that you are keeping up with the times.
Goodluck Kit
Who doesn't appreciate a little extra good luck in their lives? Especially this Diwali, where it is important to raise everyone's spirits, gifts to bestow luck upon the recipients are an amazing option. It is believed that good luck charms should be gifted and not purchased.
It could be a gift related to Feng Shui or Vastu Shastra, sharing these charms benefits both, the giver and the recipient. Things like auspicious chimes, lucky bamboo stalks, laughing Buddha, elephant figurines with their trunks raised and tribute horses are popular choices. You can also add a box of fortune cookies to sweeten the deal.
Fitness Pack
With an increased focus on health, fitness related gifts are amazing choices. It has been seen that the lockdown has pushed people to make many positive lifestyle changes. More meals are being prepared at home and there is an increased awareness about hygiene.
 Many have taken up exercising at home, be it in the form of yoga or traditional weights. For such individuals, track suits, cap, smart fitness watches, activity trackers are all great choices of gifts.
WFH Care Kit
Where Covid-19 forced companies to adjust to working remotely, the positive reflection to this style of working is undeniable. A new SAP Concur study shows, 88% percent of the workforce in India want the flexibility of working from home. Furthermore, 69% believe this way of working has improved their productivity. Working remotely has a good scope of becoming the new normal in India.
With this in mind, companies can show their support for employees' hard-work by offering things that can streamline their WFH set up. Electronics like the headphones, earbuds, power banks, Bluetooth speakers are necessary and high-value products. Phone accessories like silicone wallets and butterfly stands and customized pop-sockets are great way to go.
Another way to go is a gift box of desk essential stationery, which can include premium range of pens, diaries and others. One can also opt for eco-products here.
Travel Pack
Although travel is limited in these times, commuting for work and leisure will always be necessary. A gift package of essential travel products will be a functional choice. Be it a kit of personalized toiletries or a neck pillow, travel essentials continue to be a great gifting option.
A survey by Global Market Insights Inc. estimates 29% annual growth rate by 2025 in the that drinkware market size, standing at around US $35 billion. As the stress on maintaining a high standard of hygiene increases, people's preference for portable drinkware to has increased. Over and above this, the gift pack can include backpacks, laptop sleeves and bags among other things.
Whether you decide to gift a single item or make it into a hamper with several things, a personalized touch will definitely warm the hearts of the recipient. At Hue, we provide you multiple branding options on the products of your choosing over and above doorstep delivery all across India. Check out some of our offerings here. To get quotes, get in touch!