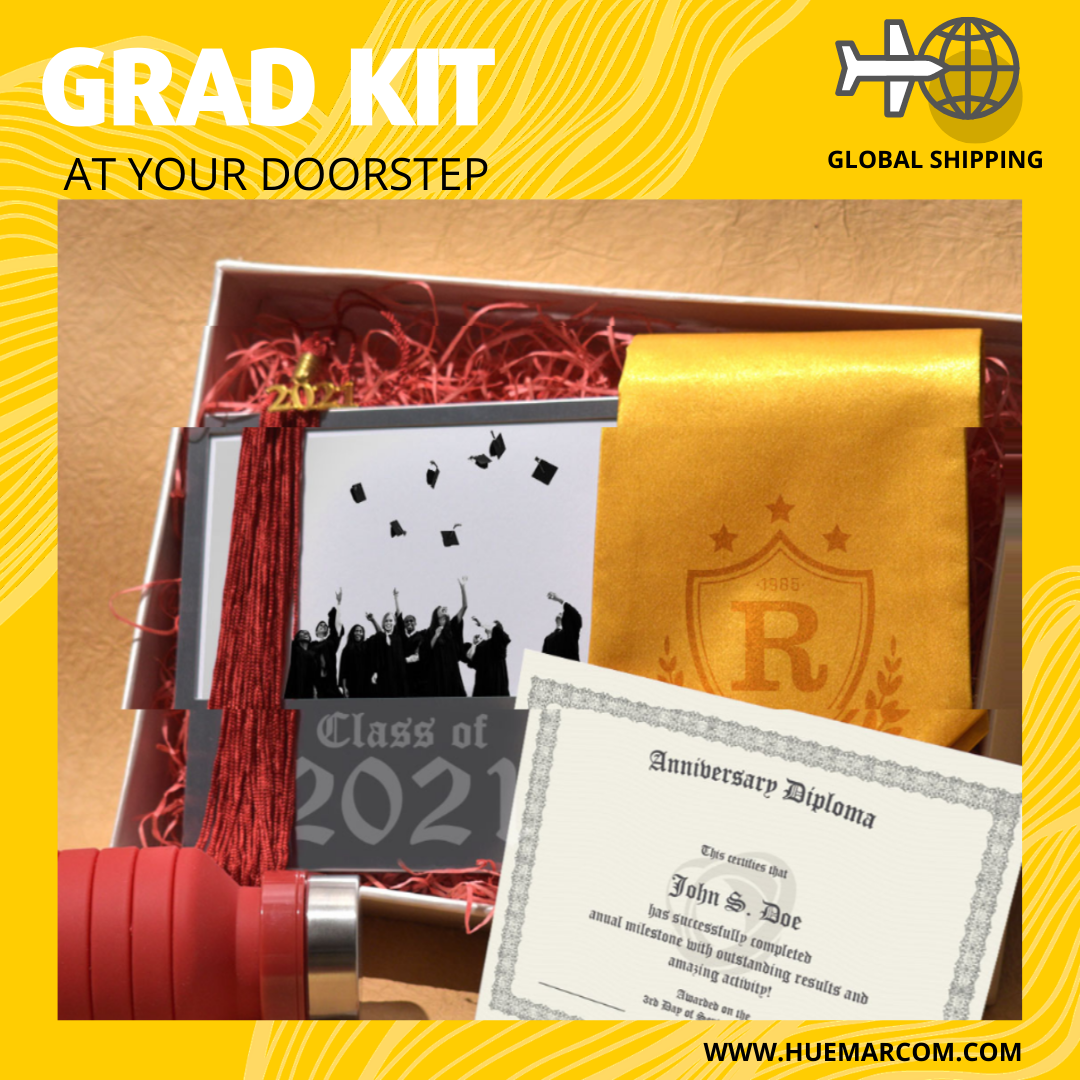 17 Feb

Customized Graduation Kits: Bring Graduation to Your Doorstep

Customized graduation kits are becoming popular among universities as a way to retain that personal connection with the students who will be passing out, in times where graduation ceremonies will happen only virtually. Graduation is one of the most important milestones in the lives of young students and a significant event for universities and colleges. All institutions around the world give a lot of time and effort to make this occasion a special one for the students. Universities do everything possible to honor the students and make it a memorable event for them.

Needless to say, when in-person graduation ceremonies were canceled in 2020 due to the Covid-19 pandemic, the scenario was morose and students were the ones most affected. The words of a passing Senior from the Middle East sums up the general sentiment among the students, "It felt like everything we'd been working for … was all gone in an instant."

Unfortunately, even in 2021 situation does not seem to be any better. Most of the universities will still be having virtual graduation ceremonies because hosting large gatherings is still not safe. However, colleges and universities understand that students are dissatisfied and are putting their best foot forward to make these events special. Across the board, one thing has been consistent among college events administrators and that is their desire to create commencement ceremonies, which provide students and their families with a sense of connection to the institutions.

No one can say that the road has been easy for colleges but they have definitely worked hard to make the graduation ceremony a special one. By now most universities have made it a point to ship graduation boxes to the students so that an atmosphere can be created during the virtual ceremonies. These kits are filled with some essentials and several goodies, packaged in a way that touches the hearts of the students and makes the event a memorable one.

Let's take a look at how this small graduation kit can make a difference to the students and make them feel special.
Customized Graduation Kits
Importance 
Besides the certificate roll, a graduation kit essentially must include the graduation cap, the tassel, and a sash or a hood or an honor cord or whatever the university students don on this day. Each of these items has a history and tradition behind it that goes back centuries and including them in the graduation kit adds to the sentimental value.
This physical outreach is a small effort for the university but its effect is immeasurable. The gift makes the students feel connected to the university, which is what they need during this time. The graduation kit helps create the atmosphere that is evident during in-person graduation ceremonies. These kits are a beautiful way that universities can express their care towards their students and make the recipients feel special.
However, it is also a known fact that all colleges will be sending these items to the students and there is a need to stand-out. Universities should There is definitely some lack of human connection and personal touch when it comes to the virtual ceremony. But with just some special care and thoughtfully packed kit, universities can help bridge this gap.
Building a Thoughtful Graduation Kit
You have added the gown, the cap, and the tassel along with the certificate to the graduation kit but that's the bare minimum and most essential. A little aspect of personal touch will bring a smile to every student's face and spread positive word-of-mouth for the university's brand. So, what little souvenirs can make an impact? Let's take a look at some items that can be effective keepsakes for the students.
Soft-toys or Plushies
This is one small thing that can add the element of fun to the graduation kit. A soft toy of a popular character can work but to add that customization aspect, universities can send a plushy of their mascot to the students. This is one thing that will stay with the students for a long time and the cute soft-toy will attract the attention of whoever the student is in contact with. The student's friends are sure to discuss the plushy casually and this way it will extend brand impression.
Beautiful Hand-crafted Souvenir
Universities can have custom-made hand-crafted accessories that will make the students and their families take notice. It can be a small broach or an attractive photo-frame that commemorates the times the student spent at the college. Universities gift a compass, a table clock, or a watch as these are items that signify time and direction. Graduation being the start of a new phase for students, a clock or a compass is considered an appropriate gift. These too are items that will remain with the student for a long time.
Stationery
Though not as fun as the soft-toy or elegant as the hand-crafted compass, one can never go wrong with stationery. Universities can easily have customized pens or diaries or pocket sketch-books to add to the graduation kit. A good quality ink-pen or a notepad is usually kept at the work desk and in plain sight of those that have access to the room. This is why stationery is an effective and functional gift that creates many impressions. To make a statement, colleges can opt for eco-friendly stationery that is easily available in the market.
The Personal Touch
Of all the options mentioned above, this is what will make the most impact. Sending out a small gift that is marked with the students' names would definitely give it a special place. However, this might require much more effort and careful execution than all universities might not be prepared for. What all graduation kits can include is a small heartfelt letter addressed to the student individually. Written in clear, elegant font on high-quality stationery can be a wonderful keepsake for students.
To build an cost effective and special graduation kit, check out the merchandise collection at Hue. At Hue we understand that the personal touch has a sentimental effect on the receiver that cannot be quantified. This little thing can make a brand and create a lot of positive word-of-mouth. That is why Hue offers customization, personalization as well as shipping services. We offer product bundling as well as global shipping services.
Alternatively, you can also become our partner and avail the benefits of our portal Huescape. Our portal allows you to place orders with a single click and keep a track of your inventory. You can get detailed reports of your orders so that you can have a complete record of your spending.
To know more about Huescape or our products and services, write to us at marketing@huemarcom.com.