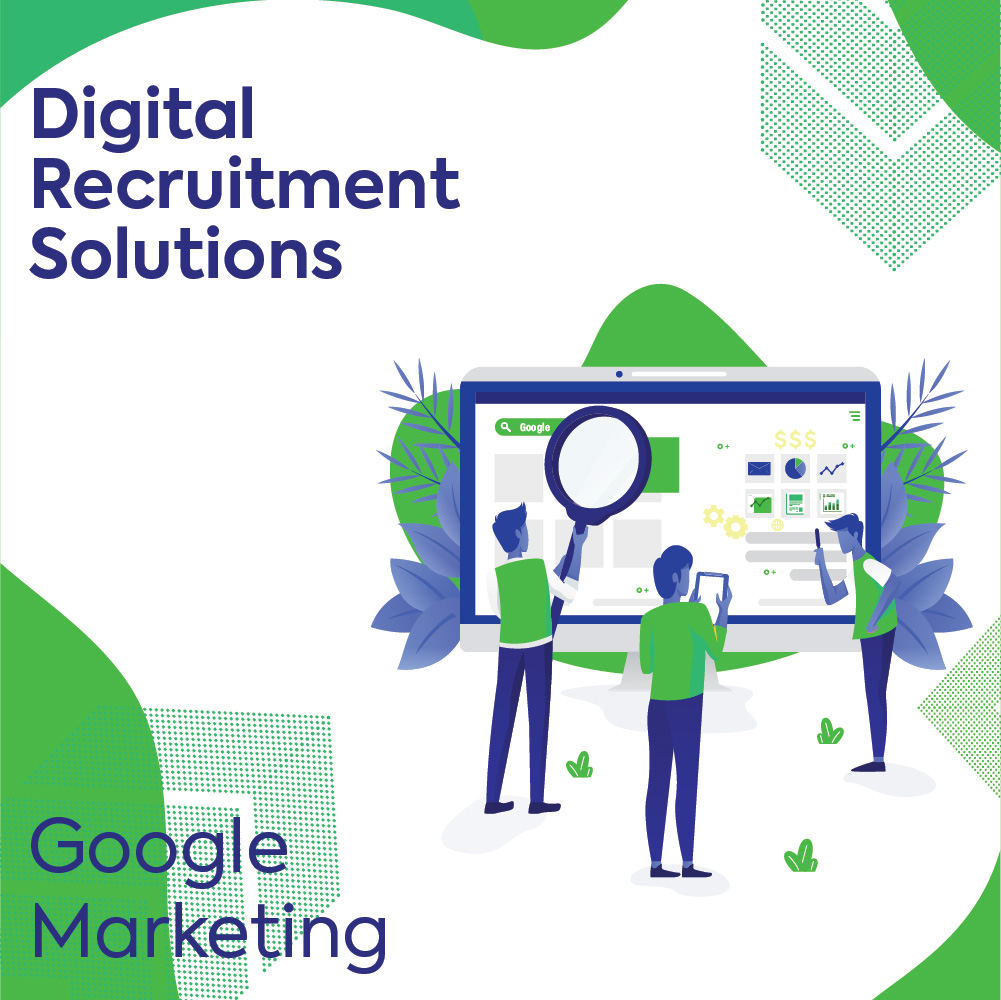 29 Feb

Digital Recruitment Solutions II – Google Marketing

What is Google?

A synonym for search all over the world. Except for China of course, but that is a subject for a different blog altogether.

On one hand Google remains an ever evolving indexing device that provides the users with websites and pages depending on their desired search queries. On the other hand, it has evolved into one of the most focused means of reaching out to your target audience, analyzing their interests and using search data to fine-tune your targeting strategy.

And this is barely even scratching the surface.

Research shows that 18-25 year olds prefer Google search over any other kind of search medium. The faith that internet users exhibit for Google is further reinforced by the fact that 63% of them show willingness to click on an ad on Google. The corresponding figures for Amazon stand at 15%, 9% for YouTube and 6% for Bing. A massive difference, to say the least.

No wonder Google's advertising revenue has seen such a steep jump over the years!
Google's Advertising Revenue over the years
It was inevitable that higher education comes on board the Google marketing train. Over the years universities, colleges and schools have understood one thing – being right on top of the front page of the world's biggest search engine is a sound marketing plan. How to leverage that position into gaining more leads and a stronger brand presence, now that is the real question.
Having discussed the importance of brand awareness and social media promotion, in this article we will focus on how to use Google and its extensive reach for higher education marketing.
So, without further ado let's look into the importance of Google for higher education marketing.
GOOGLE FOR HIGHER EDUCATION MARKETING
The benefit of leveraging Google for promotion and marketing is not an alien concept for higher education marketers by any stretch of the imagination. There is, however, the evolution of Google that has to be taken into consideration. With changing algorithms, Google has fine-tuned how content is chosen to be ranked on top of the search engine ranking pages, or SERPs.
This makes it crucial for higher education institutions and marketers to constantly be on top of the many ways that you could be targeting a Google user, or ranking your content higher. The point of interest here, as is often the case, is how to implement strategies that would amplify the existing results.
Let's take a look at how we can strengthen the foundations of your university's Google marketing strategy and some new strategies you could adopt for the same.
KEYWORD OPTIMIZATION:
Keywords continue to rule the roost when it comes to Google marketing. The first step to online marketing be it paid or organic, is largely dependent upon keywords. It forms the cornerstone of your content strategy and plays a massive role in ensuring your website's SERP rankings.
Keywords are crucial to search engine optimization and now, even to your lead generation efforts. The age of stuffing keywords into every piece of content created are long gone. It is now the age of creating value driven content that incorporates these keywords in the most natural fashion possible.
Identifying the right keywords is also just as important when running Ads on Google. We will be touching upon that shortly. For now, let's focus on the importance of identifying and optimizing the right keywords for your content strategy.
Strategically constructed content makes your university website or landing page easily readable to the crawlers – Googlebots that ensure your visibility in SERPs.
Googlebots
TIPS FOR SELECTING KEYWORDS
Keyword research – Choosing the right keyword can be a tricky process. Start with identifying what you want to market at a given point of time. It is important to note that the more popular a keyword is, the more it is being searched. Consequently, it can also mean that advertising on that keyword would be proportionately that much more expensive. Google Keyword Planner is a great resource for selecting keywords that can help your university's ad be displayed to the right audience.  Here are some factors you should consider when selecting keywords:
Popularity: While more popular keywords are often searched for, the sheer density of the keyword on the internet would make ranking on such words difficult. If you already have primary course based or brand based keywords where you rank highly, brilliant, if not, you could go for longer phrases. These phrases would not be as popular, but with the right modifier they can make for great long-tail keywords.
Relevance: Finding the most relevant keyword to your course or brand is crucial to the efficacy of your campaign. Look at it from this perspective, the more relevant your keyword is to your target audience's search, the more quality traffic you are attracting on your website. Identify keywords that are most relevant to your audience, and don't limit yourself to the popular short-tail keywords. Diversify in order to achieve relevance across all audience demographics.
Identify Intent: What stage are the searchers at when they look for your brand? Are they merely browsing information sources or are they ready to apply to a university/college? These questions will inform you about the kind of keyword that you should be focusing on. The focus should be on high-intent keywords. Identify and segment the keywords depending upon the actions they have received. This will inform you of the intent behind the use of these keywords and help you eliminate low-intent keywords.
Number of Monthly Searches with respect to the Types of Keywords
Content – One of the best ways of incorporating keywords on your website, it is long-form content. One can no longer just create the content for the website and expect it to work without any tweaks. Regular updates in the form of blogs or updating of the content already on the website becomes crucial.
Here, once again, identifying the type of keywords you require becomes very important. Think with the mind-set of prospective students and analyze what is it that they would Google while looking for their dream college?
What college is best for fashion designing?
Which college has the best literature course?
How is so and so college different?
And the list goes on.
Look at content from the perspective of creating value for prospective students. Try and answer questions that students are trying to find answers to – questions like how, which, what and where are the most commonly searched by students.
The rise of non-brand focused education searches have led to a sharp increase in the popularity of long-tail keywords. Long tail keywords are incredibly popular among students as they hash out the specifics. Consequently these keywords when used on your website increase the chances of your university/institution to achieve right up there among the searches.
Always make sure that your content is driven by results. This would entail that you keep a keen eye on the kind of content expected by students in your target markets. When you identify content that gets you the most amount of traction, all you need to do is identify variations of the same and different angles to add more value to that information.
FEATURED SNIPPETS:
Remember that special box that appears right on top of the search list whenever you look something up on Google? That is nothing but a featured snippet. The ever-evolving changes in Google search algorithms have brought a zero-click-environment in vogue, where most of the user queries are answered on the very first click.
This environment is facilitated with the use of featured snippets, a recent development which puts you right at the top of search results.
These snippets are designed to give the best user experience possible, instead of putting you through clicking on multiple links, Google chooses the best information options for your query and shows it to you. Research states that Google solved nearly 49% of all search queries in Q1 2019 with just one click and the trend has continued to 2020.
TIPS TO GET FEATURED ON GOOGLE
Students start their international education journey through a simple Google search. Ensuring that you are featured on the search string they have entered becomes key, and that is where featured snippets come into the picture.
The strenuous part is to identify the keywords which will help your university to acquire this position.
Rank Higher Than Your Competition – Do you want to ensure that students see your brand when they begin their search for an international education destination? Identify the questions they would be posing. If you are offering MBA programs, keep your content prepped for questions like 'how much does it cost to do an MBA from X'. This type of content is often likely to be featured in snippets.
Example of a Featured Snippet
Lists are more likely to appear while searching for higher education options.
Organizing website content in a manner where all the categories and courses are clearly stated with detailed description might do the trick.
Formatting for Snippets – Snippets can appear in either paragraph, list or table formats. This means that the content you have uploaded on your website should also be following these formats.
Paragraph Snippet: These snippets do not really need structured data markup. A concise answer making up the well-formatted content would work just fine. Keep your paragraphs in the range of 40-60 words. Ensure that your content is to the point. 2 headers and sub-headers are required.
List Snippets: Having a bulleted or a numbered HTML list helps getting your content featured. This Item List structured content has a highly coherent format and works best when showcasing rates, duration, or other numerical data. Use longer lists of at least 8 items to ensure that Google has data to truncate.
Table Snippets: Using snippets of at least 5 rows or 7 columns items have a higher possibility of being featured in snippets. These tables are highly useful when showcasing impactful data for your universities like intake dates, course and program duration etc.
Video Snippets: It is always great when Google features a video from your website. To encourage Google to pick up your video embed your video on a page along with the transcript of the same and add 'video' to the structured data.
Types of Features Snippets
Optimize Long-tail Keywords – Since long-tail keywords are the overarching search trend, optimizing your website around them will help Google to easily recognize your website from the masses, thus bumping you up in this chase.
Long Tail Keywords with respect to the Average Monthly Searches
Identify FAQs – Specific Q&A boxes and landing pages can increase the chances of your university for getting featured. Such additions to your website created a user friendly environment, and hey that's what we're aiming for! Isn't it?
Organize Your Content – Organized content is what attracts Google the most. Adding headers, bifurcating the content into sub-heads and use of lists or tables will increase the readability ultimately driving visitors your way.
Considering that 99% of these snippets are taken from websites already in the top-10 category, it is important to focus on securing a place on the first page of SERPs to land a snippet.
GOOGLE ADS:
We have two types of Google Ads to work with.
Search Ads – Appearing on top of the search page when you look for your query on Google.
Display Ads – Ads placed on YouTube videos and websites fall in this category.
Do not be lured into thinking that getting away with doing just one of these types of ads is enough. It really isn't.
A prospective student begins searching for a particular university/ college on Google. This is where they will see your Search Ads. When they scroll down and visit a website on that page, provided you have a smart enough marketing team, they will once again, see your display ads.
Search ads are keyword focused. This means that you need to bid on those keywords you want to rank on. Identifying the right keywords here becomes very important, because this model is cost-per-click, every time someone clicks on the ad you are charged for the same. It is commonly observed that shorter and more generic keywords are way more expensive to rank on as opposed to longer keywords, or long-tail keywords.
Where Search Ads are confined to the Google search results page, Display Ads are scattered throughout websites. This is the reason why bidding on Search Ads is preferred by higher education marketing industry as it ensures greater visibility. What's forgotten however, is that international students also refer to a number of websites, generic websites, in their search for a university or college.
THREE BASIC PRICING MODELS FOR GOOGLE ADS
Cost-per-click: Generally this model is preferred to generate traffic to the main website.
Calculating your Cost-per-click
Cost-per-action: This model is strictly controlled as one has to pay only when they receive the desired lead.
Cost-per-thousand impressions: This model is used to create brand awareness.
QUALITY SCORE
Search ads also depend on something called the Quality score and it is very important to the effectiveness of your Google ad.
Quality Score is calculated by Google depending upon the relevance of your ad, how user friendly it is, click through rate, keywords used, landing page and past ad performances as well.
Cost Through Rate = Total clicks on ad / Total Impressions.
High CTR results in high Quality Score which ultimately reduces your PPC.
What makes a Quality Score
TIPS FOR CREATING GOOGLE ADS
Follow an applicant's life cycle: Research | Preparation | Application | Admission
While bidding on Ads it is important to focus on the point at which an applicant stands in his or her search for higher education. The probability of converting leads into enrollments is higher if they come across your university's ad at a mature point.
Keywords like 'best university in the USA' are used by students at the research stage of their higher ed life-cycle. Bidding on these type of keywords is not only expensive but also won't get you any actionable leads. Instead, bidding on more specific keywords focusing on the Application stage would be advisable.
Highlight Offers: Offers are a great way to be noticed, many universities offer application fee waivers during short periods of their recruitment seasons. Ads for these often see a lot more traffic than generic ads. These offers may not just be monetary in nature, even scholarship ads work quite well.
Specifics Sell: Adding a great deal of information in a single advertisement can be devastating. Simple and creative ads gain a lot more attention instead of the conventional designs that can very easily be replicated.
Saint Louis University has by far one of the best admission campaigns. Providing prospective students liberty to customize their landing page according to their needs was a brilliant idea.
An example of a Customized Landing Page
Get Creative: This ad created by Reyerson University where they leveraged their alumni to attract prospective students. Their online campaign "NOT AN OLD BOY" got a lot of traction online.
Visuals from the "Not An Old Boy" Campaign
Mobile friendly: 52% of the market share in mobile in the worldwide marketplace. A majority of students are inclined towards using mobile phones. This suggests that your ads should be designed in such a way that appeals these prolific mobile device users. This has also given a massive boost to voice search optimization.
Mobile Friendly Ads
GEO-TARGETED MARKETING:
Do you want to get a leg-up on location based recruitment? Google's geo-targeted marketing is the way forward!
Consider this, you are visiting a Bombay, India, for a fair. Footfalls are always an issue when it comes to fairs, variable as they are. Imagine if you could have everyone in high student density areas in the city like Dadar and Andheri view your university's ad. Not only does it ensure focused brand awareness opportunity, it also works to give you a better opportunity for a conversion when done in concert with on-ground activities.
Geo-fencing, or geo-targeting works on the information received by GPS and IP addresses. This technology helps target your ads to be viewed by people in pre-defined destination of your choosing.
Consider a situation like we are in today, when the fear of a Coronavirus outbreak has put a halt on a lot of recruitment fairs in Southeast Asia. In a situation like this it is a great idea to have a concerted digital marketing lead generation campaign comprising of geo-targeted ads.
Imagine this:
Your fair in Bangalore has been cancelled.
However, you are still able to help prospective Bangalore students identify your college through Search ads.
Through Display ads on popular student websites in the region.
Through Social Media Advertising reaching your required demographic in that city.
And through a focused geo-targeted campaign in the high-student density areas of the city.
The question now arises how should you identify locations to target?
The answer lies in the enrollment statistics of not only your university but also that of your competitors.
These numbers can help you figure out which cities or regions sends the most applications your way and can help plan your digital marketing plan.
Geo-targeting helps the university marketers to modify their ads accordingly.
Visual Representation of how Geo-targeted Ads function
TIPS FOR GEO-TARGETING
Bid on high-value locations: High-value locations for higher education institutes are those where students often hang out. These places could be high-schools, popular cafes, parks or gaming zones. Bidding on these places will ensure that your ads are being displayed to the right audience and eventually increase your ROI.
Target your competition: Present an option to students seeing your competitor's ad! By bidding on your competitor's location you can highlight the services your university offers and what makes it a better choice.
Use regional language: Using phrases that exclusively resonate with the people of a specific region in geo-targeted campaigns is a strategy that will definitely grab attention of the viewers. Try and speak to your prospective students in a way that they understand best and the results will speak for themselves.
Be Time-specific: Regulating these ads during holidays and peak recruitment season will result in more leads and thus save your marketing budget. Ensure that you leverage these ads during your fairs and school visits. Recruitment travels are one of the biggest geo-targeting opportunity and should be capitalized with a digital marketing plan at least as detailed as your travel itinerary.
Call-to-action: Call-to-action landing pages on geo-targeted ads is a must. These landing pages will ensure that the people who are interested in learning more about your institute are directed to your website.
Google marketing is an ever evolving field and holds a number of incredible innovations that can help universities reach prospective students in a more targeted fashion. Consider how chatbots are revolutionizing the way universities interact with applicants. Voice search is changing the face of SEO every day. More and more students with access to smartphones are becoming proficient in identifying valuable content as opposed to promotional content.
With the landscape of Google, and internet usage for that matter, changing with such frequency, it is very important for universities to stay updated with the latest strategies that could improve their recruitment ROI.
In the next article we will be talking about yet another important means of digitally reaching out to prospective students – Webinars. Did you know that a majority of universities are now looking at webinars to aid their recruitment efforts? Stay tuned for more details on the same next week!